Brief:
Consumers tend to evaluate food packaging intuitively rather than through reasoning (at least at a first glance). Consequently, their actual buying behaviour is often less environmentally sustainable than they intend.
A successful packaging strategy should consider both the true environmental footprint of a packaging practice and to what extent consumers want it. Overall, consumer preference should lead them to choose these more sustainably packaged products over others.
We asked students to have a look at what is happening in the world of sustainable packaging. The students explored inspiring examples of alternative packaging to what is conventionally used today.
Methodology:
The students measured the actual sustainability of 12 inspiring packaging practices to ensure that, next to appearing as sustainable packaging, they are actually sustainable.
They evaluated this using 4 criteria: the calculated carbon emission of the package, the potential toxicity, material recyclability and composability of the package. These scores were combined and formed an overall score of how sustainable the package is in general. 
The students then created a sensory questionnaire  to gather data on how consumers perceive these packages. Over 300 European consumers answered questions on 6 of the 12 packaging products, judging the packages on elements related to appeal and perceived sustainability. 
Een paar inspirerende voorbeelden: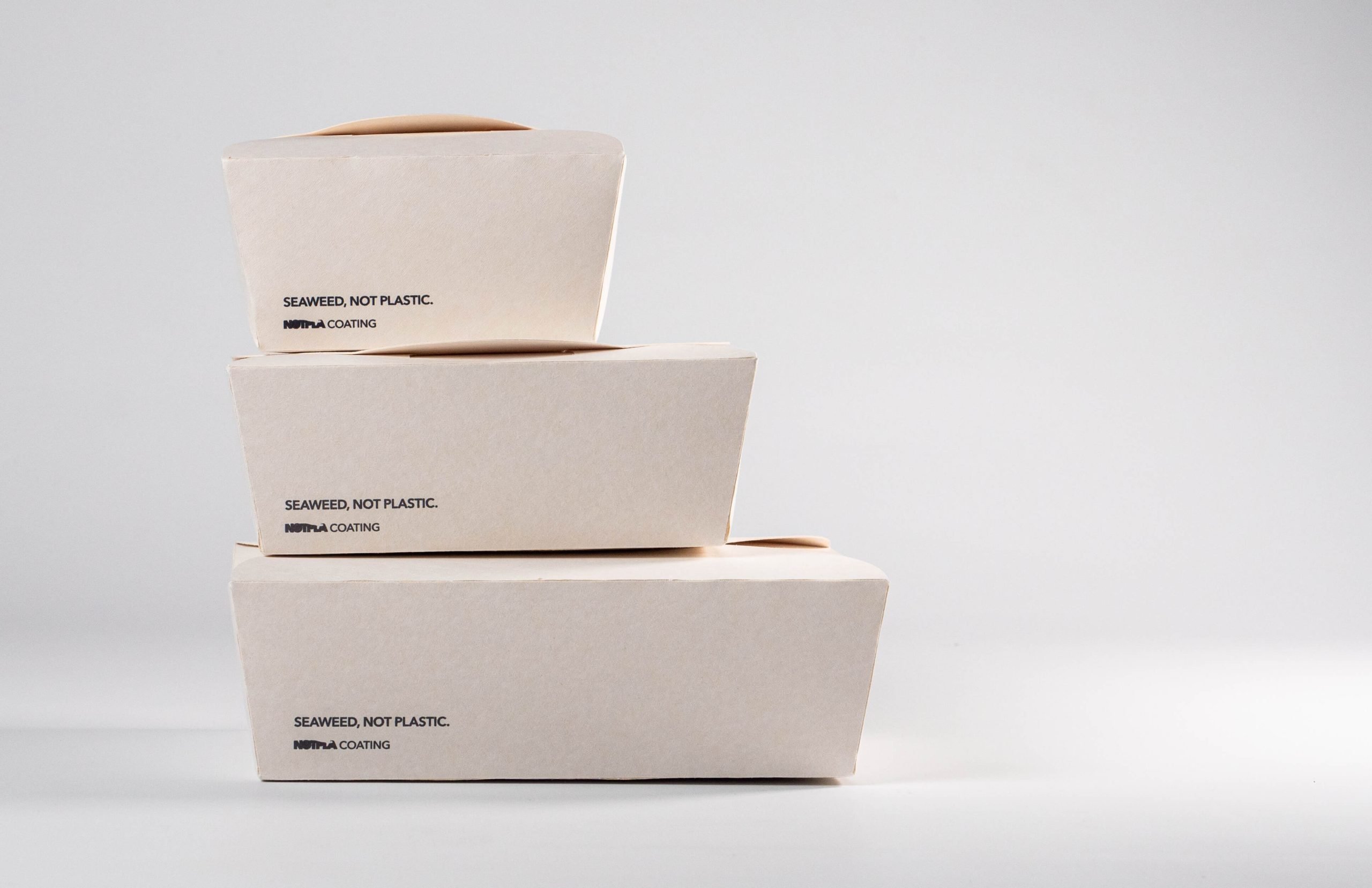 NotPla created a biodegradable coating for their takeaway boxes to replace plastic coatings. The boxes are made of kraft bleach paper and are both recyclable and home-compostable. 
The coating is made of brown seaweed that grows up to 1m per day, doesn't need fresh water or fertilizer and actively contributes to de-acidifying the sea. Furthermore it absorbs carbon dioxide from the atmosphere. 
Importantly, Notpla packaging has the same grease and water-resistant qualities as traditional takeaway packaging.   
SAIKAI is a concept brand that was created by design students from Mid-Sweden University. The fact that the packaging is modular allows for versatile uses and additional functionality other than simply holding products and keeping them fresh. In this case, the packaging can be used as a serving tray. Additionally, the unconventional hexagonal shape makes it stand out on store shelves as it draws attention by being unique and visually appealing. 
Hence, next to being sustainable, packaging of sustainable foods can benefit from being visually unique and modular to attract consumers. 
Minimax Jungle Multivitamin Gummies
The box has an original unique shape that is appealing and convenient to pick up and carry around. This is particularly interesting for children that can easily pick it up and play with.
However, a significant sustainability issue with this product is related to the individually wrapped gummies within the box. If this is avoided, the packaging still scores well on sustainability as it can be recycled and potentially reused by children as a toy. 
Find out more:
Find the best practice packages and the results of their evaluation in this free download. 
Contact us to find out more about the results, or how we can tailor consumer insights to your product or company.